Enhancing Workflows and Driving Sales with a Headless CMS Upgrade
In a highly contested space like e-commerce, choosing the right content management system (CMS) can make or break your business. We recently helped activewear brand Fabletics find and adopt the best CMS for their use case. The choice was a headless, composable CMS that has helped Fabletics speed up content management on its website, improving workflow efficiency by 75% and driving sales conversions.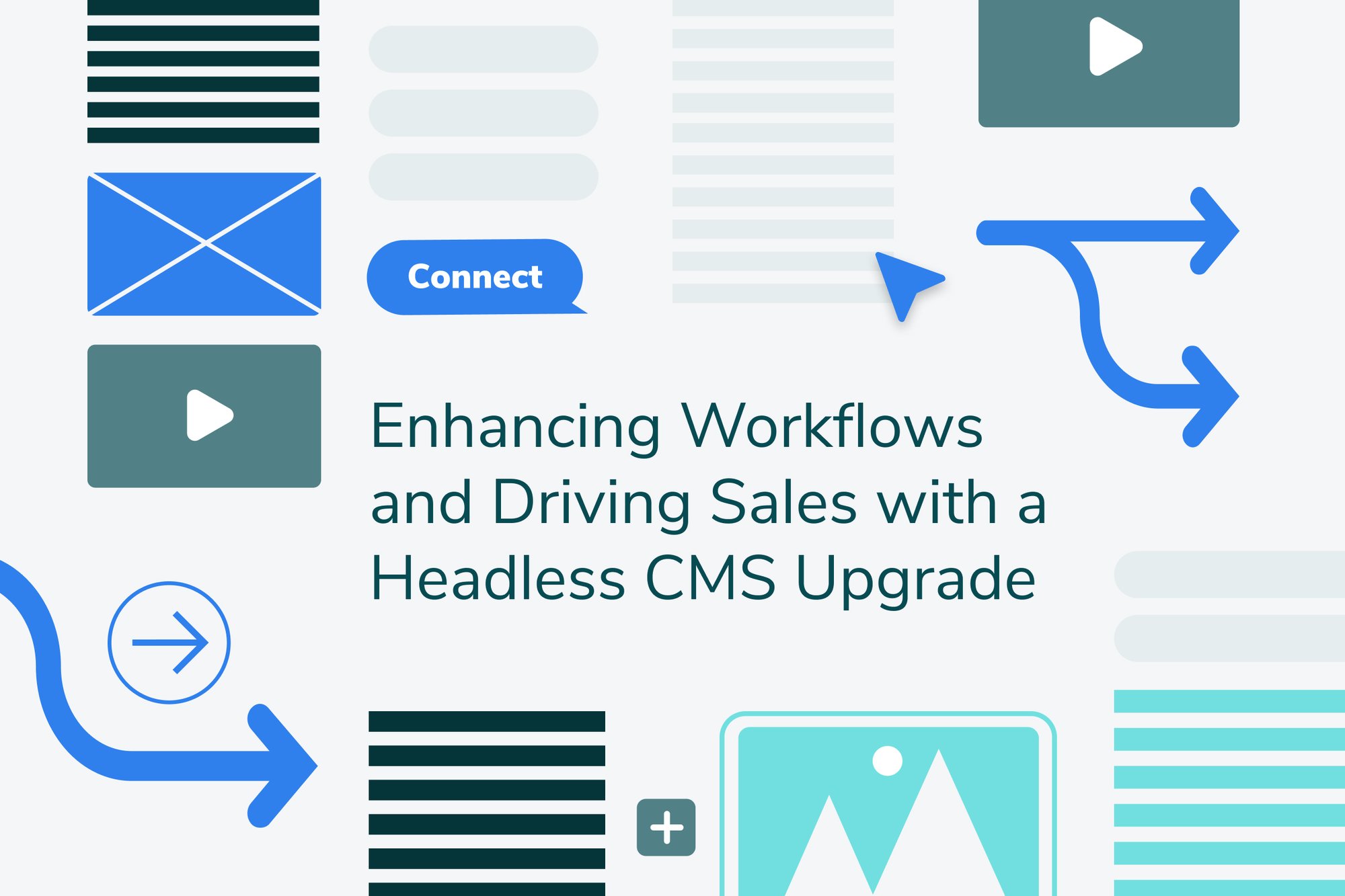 The rise of e-commerce platforms as well as no-code and low-code website builders over the past few years have made the e-commerce space an increasingly competitive field. As consumer behavior suggests that the traditional linear funnel has run its course, it has become crucial for businesses to create dynamic and interactive digital experiences to stay relevant.
Given the fierce competition, content management systems (CMS) play a crucial role for businesses as they create, manage, and optimize content to drive sales conversions. In e-commerce in particular, an optimized CMS translates to better performance, and through various integrations, it can open the door for more comprehensive analytics, a higher degree of automation and personalization, and the use of AI and machine learning.
Our client Fabletics, a leading global brand within the apparel space providing accessible, inclusive high-performance activewear to over 2 million subscribers, understood these benefits well as they approached us for help upgrading their CMS toolset to help users collaborate more efficiently in the creation, editing, and production of digital content.
Identifying the Problem: Limited CMS Capabilities
Flexible, dynamic and user-friendly CMS platforms allow businesses to make use of advanced personalization features, such as product recommendations, dynamic pricing, and tailored content based on user behavior – all of which are key factors in e-commerce customer experiences, and part of what customers have already grown to expect from brands. Driven by the desire to stay on top of trends to provide users with the best possible customer experience, Fabletics was ready to find another solution for their CMS.
Even though Fabletics had smoothly transitioned their front-end over to a more advanced architecture, their CMS limited the creative possibilities of their merchandising and marketing teams. Site content modifications also required engineering input, which was time-consuming and impacted the teams' efficiency. To solve the problem at hand, we got started on exploring the challenge further and co-creating paths towards solutions.
Collaborative Solution: Choosing and Implementing the Right Headless CMS
When working with an external partner, organizations will benefit from prioritizing partners that work in a collaborative, co-creative way – as opposed to providers that will simply take briefs or project scopes at face value, and stick to them without further discussion. Collaborative co-creation is widely considered ideal for building trust and communication between partners and your teams, in order to collectively gain a better understanding of the challenges and goals. This way of working leads to more effective problem-solving, innovation, and decision-making.
At the time, our work with Fabletics had already been ongoing, and as their established strategic tech partner, we were more than happy to support them to navigate through this technological challenge, and help bring their vision to life. The goal was clear: to find, integrate, and customize a third-party CMS tool that would harmonize with their needs and elevate the value offered to Fabletics.
We first set out to host hands-on sessions with the Fabletics marketing and merchandising teams to gather insights on critical 'storytelling' elements that were vital for driving conversion and customer loyalty. In parallel, we aligned with their product and business teams to holistically understand their requirements and technological landscape.
This collective ground work and evaluation of third-party options, combining our technical expertise and Fabletics' deep understanding of their audience and customer base, led to the decision by Fabletics to move forward with a headless, composable CMS from Builder.io.
Implementing a flexible and dynamic CMS solution like Builder in e-commerce platforms matters because it democratizes the content creation and management while freeing up developer resources better spent elsewhere. Choosing a CMS that provides straightforward, component-based solutions that teams can use to build and modify their content as needed, without requiring extensive technical knowledge or resources from developer teams should be a key component when evaluating your options for a platform change.
While a CMS upgrade will primarily have an impact on internal operations, it will also, by extension, affect the end-user's purchasing experience. Having the ability to update and make changes to your website quickly enables faster time-to-value as it allows your organization to stay current with trends and customer expectations. This matters particularly in e-commerce, where user experience significantly influences purchasing decisions, making it crucial to have a tool that allows for agile content management.
Strategic Application: Revamping Product Detail Pages
At Fabletics, once everything was ready to go ahead and implement the tool, the components and content blocks were set up on Builder, all designed for maximum content flexibility and modular assembly into larger, engaging templates. This resulted in a tangible, valuable application of this new CMS, visible in the enhancement of Fabletics' product detail pages.
Smart components such as "Complete the Look" and product comparison units were developed and integrated with existing React components, not only ensuring consistency and future usability, but also providing a richer and more engaging customer journey.
A CMS that offers this level of flexibility, ease of use and scalability, directly contributes to your organization's ability to create a more personalized and streamlined customer journey. This enhances the aesthetic and interactive elements of your website, and also strategically influences consumer behavior and, subsequently, sales results. Strategically positioning your brand amidst its digital-first consumer base is largely dependent on how optimized your CMS is for experiences that drive conversion in a way your end users find authentic.
Ultimately, an optimized UX within e-commerce doesn't just fulfill immediate customer needs; it subtly guides the customer journey and their interaction with your brand and your platform, strengthening your foundation for retention, loyalty and sustained engagement.
Positive Outcomes: Efficiency and Enhanced User Experience
Post-development, we conducted comprehensive handover sessions with the Fabletics team to ensure a robust adoption of the new system that Fabletics could then independently run, ensuring consistency and ease of use for the future. The data integration work we did with the products microservice meant all product attributes could be displayed for any locale, and automatically updated when the catalog was changed.
"Our migration to Builder and the component-based CMS approach dramatically improved the way our teams operate. Our workflows are now 75% more efficient. We're able to focus on our core competencies and create personalized experiences for our customers – all without having to spend excessive time editing and updating our website. Overall, everyone is super happy with this change." - Tim Collins, Fabletics CTO
The outcome of our collaboration is a dynamic new CMS toolset for Fabletics, with custom components, flexible templates, and reusability across their website and sister brands. It has enabled their merchandising and marketing teams to develop and implement content that elevated and drove the customer experience, increasing sales and keeping customers loyal and engaged, all while improving workflow efficiency by 75%. A considerable part of this improvement comes from making the teams more self-sufficient and less reliant on manual updates by developers.
In straightforward terms, Fabletics' journey demonstrates the tangible impact of smart tech application on e-commerce strategies and operations. By upgrading to a Builder.io headless CMS, they streamlined internal workflows and enhanced their online customer experience, two critical aspects that directly impact the bottom line in e-commerce. For businesses operating in this space, adapting and optimizing technology is not just nice to have – it's a condition to staying competitive, meeting customer expectations, and driving conversions.
Beyond a technological CMS upgrade, the Fabletics success story serves as a practical example of an organization having a clear vision, a sound strategy and a solid strategic partnership, effectively leveraging its existing e-commerce customer experience into an engagement-driven, digital storytelling platform with best in class customer experience that ultimately and organically drives conversion.
If you're considering an upgrade or change in your CMS or other technology stacks, get in touch with us. Our expert teams are happy to support you through a seamless integration process, ensuring your tech investments translate into real-world results. Let's build your next success story together!